Askey Expands the 5G Telecom Ecosystem by Revealing a Series of New Solutions at MWC 2023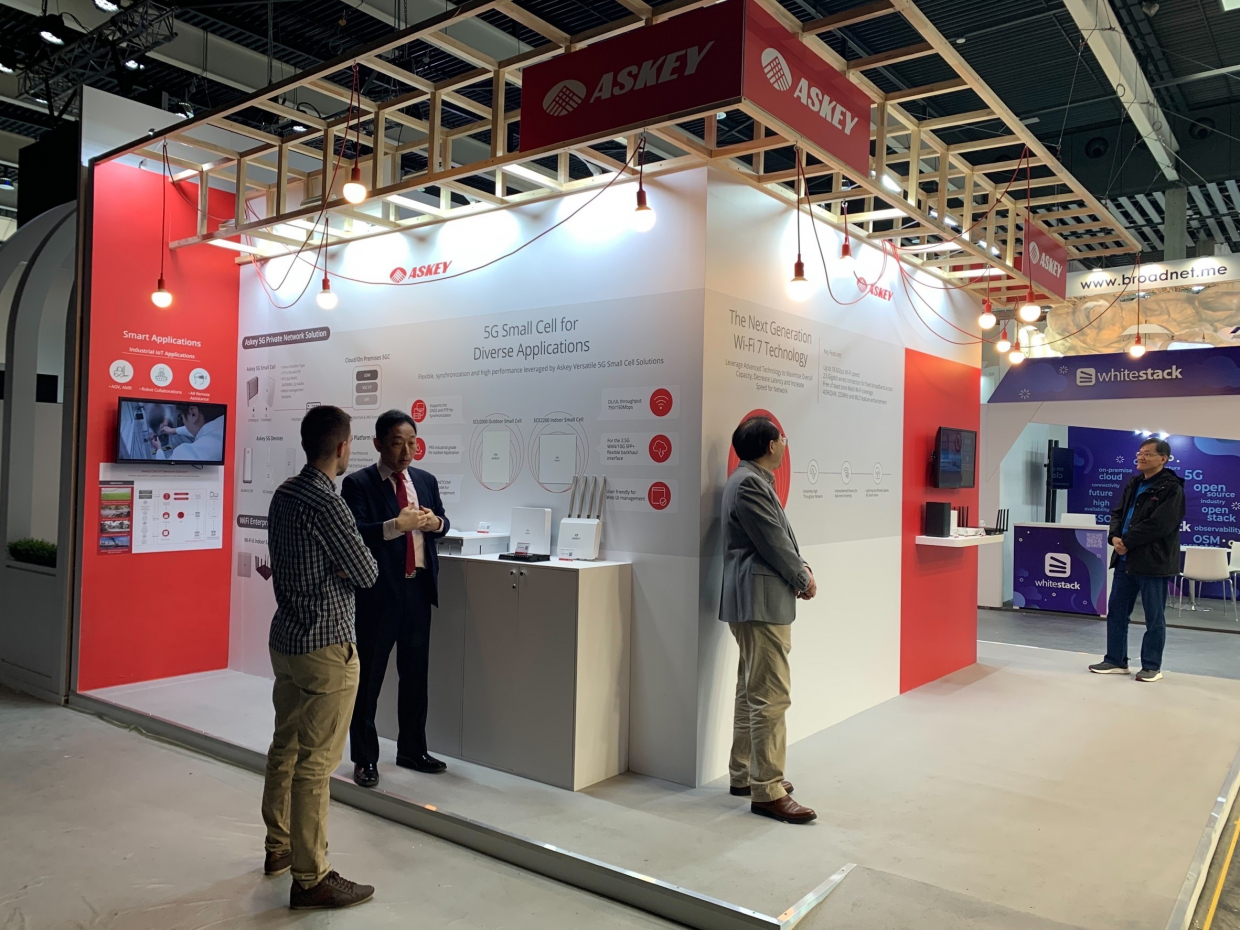 Barcelona, February 2023
– Askey Computer Corporation has officially confirmed its participation at the Mobile World Congress (MWC) 2023 in Barcelona. The exhibition will showcase a series of solutions for "Private 5G Networks", "Internet of Vehicles", and "Civil IoT", along with the latest 5G and Wi-Fi 7 devices.
By expanding the 5G ecosystem and providing safer data transmission for problem-solving in business, Askey hopes to bring software and hardware integrated solutions to industries and companies.
With the investment and development of telecommunication technology for many years, Askey will showcase 5G All-in-One mmWave and Sub-6 GHz small cells, and Wi-Fi EAP. In conjunction with Askey's products, such as 5G small cells, 5G NR ODU/CPE/USB Dongles, and especially compliant with the Matter standard Wi-Fi 7 routers, Askey can provide enterprises with a fast and stable internet connection.
Showcasing Private 5G Network Solutions
By leveraging on its over 30 years of experience in network communications and electronics manufacturing, Askey provides one-stop service to help businesses build complete end-to-end solutions, including 5G network planning and construction, IoT application development, data analysis, and information security. The Company aims to promote digital transformation for SMBs at reasonable costs.
According to Askey, Private 5G Network Solutions have been applied in practice; for example, data and images from underwater sensors can be transmitted to the system in real-time to facilitate monitoring of underwater ecology.
Moreover, Askey's Private Network Solutions have achieved 5G AIoT virtual-reality integration in smart factories. A Taiwan's screw factory is adopting 5G NR ODU/CPE/USB Dongles and other access devices produced by Askey, allowing data collection by autonomous mobile robots (AMR), unmanned vehicles (AGV), and VR to be transmitted to the network management system at high speed. By doing so, operators can perform real-time collaboration and remote maintenance, maximizing factory efficiency and capacity.
Highlighting IoT/IoV Applications
In coordination with Civil IoT Taiwan, launched by the National Center for High-Performance Computing, Askey utilizes its Civil IoT Networks for urban and rural infrastructures. These solutions are applied in Tainan and Taipei for flood and volcano disaster prevention monitoring, as well as in farms and greenhouses in Yunlin. After installing climate and soil sensors, and connecting to the system, valuable data including temperature, humidity, wind speed, rainfall, illumination, specific gases, chemical concentrations and more will be collected and recorded. Farmers can use statistical analysis to improve the quality and quantity of crops significantly.
As for IoV applications, Askey has built a 5G C-V2X OBU and RSU system that integrates with Real-Time Kinematic (RTK), a satellite navigation technique used for precise positioning in real-time. Under the high-frequency and the high-speed transmission, all data including emergency vehicle locations, road conditions, and signaling information can be sent to the control center, and the traffic lights for emergency vehicles will be switched accordingly. The statistic indicates that the efficiency of ambulance dispatches can be improved by an average of 38%, which not only enhances the quality of ambulance service but reduces accident rates.
Recently, Askey has devoted resources to advanced research and innovations in 5G/LTE. Meanwhile, there was a significant revenue growth last year compared to the previous years. The Company is now developing Wi-Fi 7, which is expected to provide speedy data transmission, to lower latency, and to improve network efficiency for network providers and users.
Askey will exhibit the next-gen Wi-Fi 7 Mesh Router and other innovations. For more information about Askey's cutting-edge applications, please visit the booth at
MWC, Hall 5, Stand 5C11, Fira de Barcelona, Spain
. Let's get connected!