Learning and Development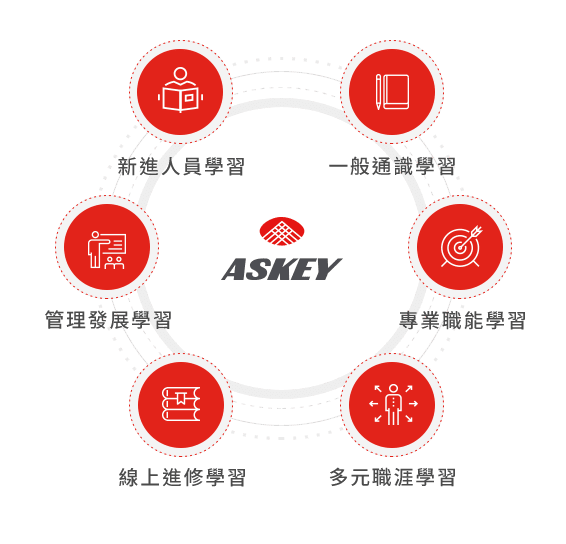 Employees are the most precious asset that is why we are committed to providing our staff with ample opportunities and resources for growing. We help our staff continue to learn and enrich their occupational capabilities for building up the irreplaceable personal value.

Aside from their professional positions, our staff have diverse development opportunities to expand their careers. Together, we explore cutting-edge internet and communication technology to create a better 5G and AIoT ecosystem. Along with our staff's ambition and enthusiasm, Askey will benefit our customers more.

New Employee Orientation
Askey provides newcomers with a complete training program. They will receive New Employee Handbooks, and learn about the environment through guidance on their first day at work. Each newcomer will have a mentor or partner for providing necessary assistance and guidance to help him/her to fit in. The recruit orientation will help new hires understand Askey's visions and business principles.

On-the-Job Training
Internal or external functional competency training programs will be arranged for employees according to their required functions of different job categories to help them keep professional and competitive.

General Education and Learning
Askey plans and provides general education courses for our staff, such as related courses on communication skills, team building, labor laws, and workplace safety, as well as courses on work efficiency inspire our staff to work smarter.

Multiple Career Pathways and Learning Resources
Askey provides rich and various learning resources, so employees can have access to the latest knowledge, realize their potential, and continue to progress professionally. In addition, the journal of Askey we publish will provide diverse information, such as current exhibitions, events, lectures and book recommendations, enabling our employees to have new knowledge comprehensively and flexibly.

Online Learning
Askey has an e-learning platform and encourages our staff to utilize online resources in order to enhance their required core functions for career development, and make learning a lifelong habit.

Management Development Learning
The Company also provides management courses corresponding with the management skills required by supervisors at various levels; these enable our staff to lead their teams, help improve teamwork and work performance, and create corporation value.