Askey Launching State-of-The-Art Smart City Solution in Taipei
Smart station, Smart Taipei
It is a great honor for Askey to have signed a contract with the Taipei City Government to install its Smart City Loopzone system at the Taipei Main Station.

This solution is the perfect synergy between technology and usability to allow the Taipei Main Station visitors to navigate within and around the Taipei Main Station without ever getting lost.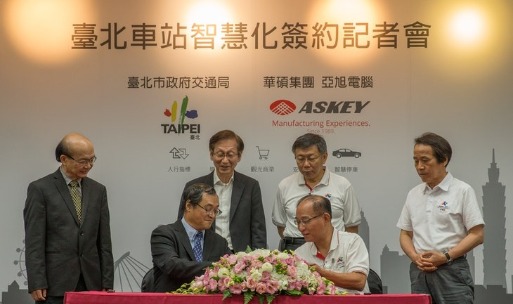 Whether they are there to catch a train, have something to eat or do some shopping, the Askey Smart City Solution is there to make it all a breeze.
Askey CEO Robert Lin (林成貴) said "Askey is widely recognized for its success and expertise in the manufacturing and development of state of the art information technology products and solutions. We thought that we should bring our expertise to serve our beautiful city and make it as enjoyable and innovative as possible. Whether it's indoor or outdoor navigation, parking guidance or simply recommendation to have a great time, Askey has developed Kiosks and an App that will guide everyone."
With this new development, Askey is bringing the urban experience to a whole new level. While we know that Indoor navigation can be a challenge, thanks to Askey, the complex structure of the Taipei Main Station – often referred to as a maze – is easily decoded in an easy to use indoor navigation solution combining Kiosks and an App. The App locates the user in real time and indicates the path towards the point of interest.
We at Askey believe that, as every city is unique, we will engage with a city's government in order to understand their most pressing and or important needs so we can create solutions that make life for this city's dwellers the best it can be.